---
IT STARTED WITH THE DOG
& feeding the homeless weekly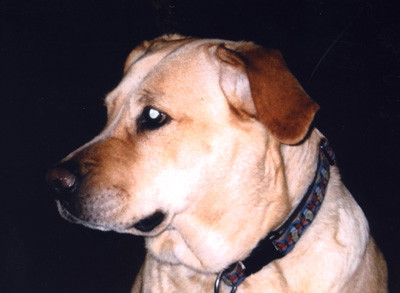 SANDY THE DOG & BRIDGE MINISTRIES
---
For quite awhile I had watched this homeless guy, that lived down the street, under the bridge, walk past my house with this dog.

---

The problem was the dog walked with her head down.. looking toward the ground. it bothered me to see the emotion of this dog.. feeling so despondent.. looking down, instead of up.. the way that dogs usually walk.

---

I told my husband "I want to get that dog! I can't stand to see it look like that!". Months passed.. and as winter came, I had my opportunity.
I was walking out of the local mini grocery store and as I left the store I heard a guy ask me "Do you have any spare change?" As I looked down, there was THE dog. It was raining and the dog was visibly shaking.

---

"How much do you want for the dog?"

---

"The dog is not for sale", he said. I wouldn't believe that. "Come on.. How much do you want for the dog?"

---

"$500 dollars, I'll take $500 dollars."

---

I told him. "You know that ATM isn't going to give me no $500 dollars, what do you want for the dog?"

---

"I'll take $300 dollars"

---

Back and forth.. until I went in and used 2 ATMs to get out $300. I paid the guy and called my husband. "Get down here! I just bought the dog!"

---

Since then, she has become not only a family member, but an inspiration for the ministry that was to come. Bridge Ministries was started to feed the people living under the bridges near our home. When my husband ventured out under the bridges, he brought Sandy the dog, a friend of theirs, they knew her! It was a real ice breaker!

---

Bridge Ministries has continued to feed the homeless over 200 meals a week as well as, collecting food from Safeway twice a week to bring to the local Homeless shelter, Loaves and Fishes and Monument Crisis Center .

---

In March of 2015 , after being such a faithful companion for 11 years Sandy passed away from cancer. We will all dearly miss her presence in our lives.

---

If you are interested you may visit our page: Five Dollar a Month Club
THE MISSION OF BRIDGE MINISTRIES

---
Who We Are And Where Your Donations Go
---
Our mission is to serve the homeless and hungry in our community.
---
7 days a week we are bringing lunches to the homeless in Hillcrest Park, the Concord Homeless Shelter, Detroit Avenue Crisis Center, and the various tucked in places where they are hanging out.
---
Each Sunday we are also bringing hot food to the marina in Martinez. There are usually 50 to 60 we serve food to out there. Every week we are serving or delivering at least 360 meals.
---
We are always asking as we are serving if there are other needs that we may be able to help with; from sleeping bags to jackets gloves, socks, tarps. As this ministry grows there are many places that we feel God is leading us to help. With prayerful direction we will use the resources given to us to continue to feed and serve..
---
We are not trying to enable them.. just to keep them alive until the Miracle happens !